G. G. Mehta (1912-1999)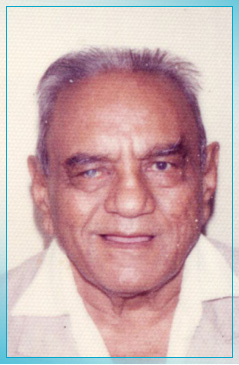 Goradhandas Girdharlaal Mehta, more popularly known as just 'GG' is well known for his active involvement in social service and community work. Highly respected for his values and commitment to social causes, he devoted the best part of his life to educational and constructive social work.
Mr. Mehta was a brilliant student throughout school and college, and was known for his qualities of intelligence, courage and fearlessness. He was an able organizer, leader and administrator, and won many laurels during his years as a freedom fighter. In 1930, when he was just 18 years old, he unfurled the national flag on top of the Rajabai Tower and was jailed for eight months for that heroic act. After that he took part in `Lothian Go Back' movement and was once again jailed for eight months.
During 1940-42, Mr. Mehta became active as a labour leader and later served as General Secretary of Hind Mazdoor Sabha and president of All India Bank Employees Association. He represented India at two different conferences at London and Geneva.
The next stage of his career began in 1952, when he gave up the comforts of his life as a partner in famous legal services firm Bhaishankar Kanga and Girdharlaal, Solicitors and opted to live in Sabarkantha district.
During those days, that district was passing through a difficult period, and faced many political, social and economic pressures. Mr. Mehta left behind all the luxuries of a metropolitan city and devoted himself to the service of his motherland in Sabarkantha. He was involved in different projects in the fields of education, the co-operative movement, for upliftment of rural areas and backward classes, health, assistance to farmers and labourers etc. His wife, Vimalaben joined the Bhoodan movement started by Acharya Vinoba Bhave and moved in different villages along with her fellow workers.
Over the years, GG worked in different areas of public service and in different capacities. Some of the notable positions he held included President of Nootan Bharati Sanstha, Founder President of Banaskantha District Co-operative Bank, Founder President of Banaskantha Jilla Rachanatmak Karyakar Sangh, founder of Sarvodaya Arogya Kendra and Prasutigruha. Each of these institutions that he helped establish, was nurtured and developed to new heights.
Mr. Mehta was a patriot and a Gandhian and provided an outstanding example of commitment to women's liberation and the important role of women in social upliftment by involving his wife Vimalaben in social activities.
Never hungry for power or position, his devotion to Banaskantha and public service is indeed a valuable contribution for the development of the region and the nation.
GG passed away on January 10, 1999 in Mumbai.