Vimalaben Mehta (1915-2000)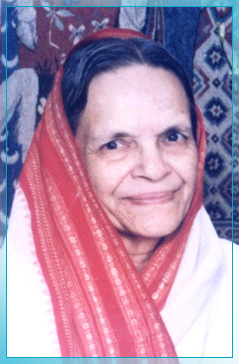 A staunch follower of Mahatma Gandhi and Vinobaji, Vimalaben devoted almost 50 years of her life to work in the fields of child welfare, promotion of education and literature. She was instrumental in providing financial help to the illiterate, poor, needy and downtrodden.
Though she was born with a silver spoon in her mouth, instead of spending her life in a posh flat in Mumbai, Vimalaben was more interested in meeting and helping people in the rural and backward areas and undertook a number of educational and social welfare projects in those areas. "Service to mankind is service to God" was her motto for social service.
Over the years, most of her social development activities were focused on the interiors of Maharashtra and Gujarat, particularly in the backward villages of Banaskantha. As a result of her activities in that district, she was often referred to as "Mother Teresa of Banaskantha".
One particularly unique project taken up by Vimalaben was the rehabilitation of prostitutes. She helped them completely change their lives and resettle in farming activity.
A shining example of her activity is the 'Balaram Saghan Kshetra Samiti' which she founded and worked tirelessly for. Because of her hard work, this organization received a number of titles, shields, awards and prizes.
As a social worker, Vimalaben was associated with the Mumbai State Khadi & Village Industry, Sarvodaya Women's Industrial Co-operative Society, Banaskantha District Joint sFarming Cooperative Society, Banaskantha District Khadi and Village Industry Service Co-operative Society, Balaram Seva Sahakari Mandli etc. Over and above this she also ran several child welfare projects in the backward villages of Banaskantha.
She has received a number of awards and trophies for her work in the fields of child welfare, children's literature as well for philosophical literature written by her.
Vimlaben passed away on January 24, 2000 in Mumbai.